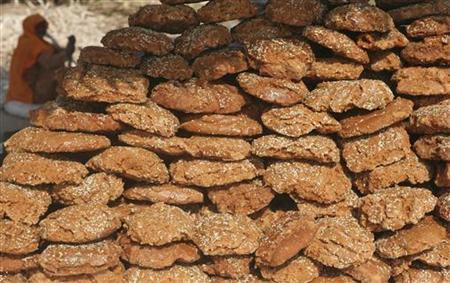 ---

LAHORE: As the cold winter evenings wear on, a sweet, treacly smell fills the air in a small village on the outskirts of Nakana Sahib. The delectable aroma is indication of jaggery season. With the advent of winters, sugarcane farmers around the province invest long hours preparing the traditional cane sugar, which serves as the core ingredient for many seasonal delicacies.
The village on the brink of Nankana Sahib is abuzz with people, all drawn by the whiff of fresh jaggery, locally known as Gur. As farm-workers toil to pour gallons of sugarcane juice into a large bowl to feed the kiln, crowds of golden-agers, young men and children from around the neighbourhood swarm the premises to festively spectate the process of traditional jaggery making.
Jaggery tea a hot favourite for winters
According to Muhammad Sajjad, a local farmer, preparing jaggery is a task which requires years of practice and acquired skills. Sugarcane peels are used to fuel the kiln and the juice is left to simmer for hours until it thickens and forms a golden-brown amorphous solid. "Soda and colour cuts are often added to the boiling jaggery to enhance its colour and texture and when the juice thickens, it's finally placed in a wooded tray and left to cool."
As the amorphous solid begins to cool, an experienced elder carefully uses a wooded spoon to cut pieces of the jaggery sheets. "All visitors are allowed to indulge in tasting the piping hot jaggery, the sweet aroma of which fills the village air."
Often a variety of nuts and dried fruits like almonds, peanuts, raisins and coconut are also added to the hot jaggery. "I'll save batch of my premium jaggery for my friends and family and the rest will be sold in the market," said Sajjad.
"About 250 to 300 mound of sugarcane is grown on my fields every year, but I do not have the time to produce jaggery from all of it and neither do my children prefer working on the farm," shared Rahim Buksh, a village elder. "So although less profitable, I sell most of the sugarcane I produce to mill owners instead," he added.
According to Buksh, as opposed to thickening the liquid, the best jaggery is prepared from sugarcane juice which is left a little soft. "On the other hand, preparing sugar requires the mixture to be much thicker and thus the juice is constantly stirred with a wooden spoon to obtain the sugary texture."
Jaggery is a key ingredient in many south-east Asian cuisines and is traditionally considered a healthier alternative to sugar. "Although people here enjoy jaggery in many ways, at my home the golden-brown cane sugar is primarily used as a sweetener for tea and making traditional sweets," Sajjad told The Express Tribune, setting aside a batch of his premium Gur for his loved ones.


Please follow and like us: