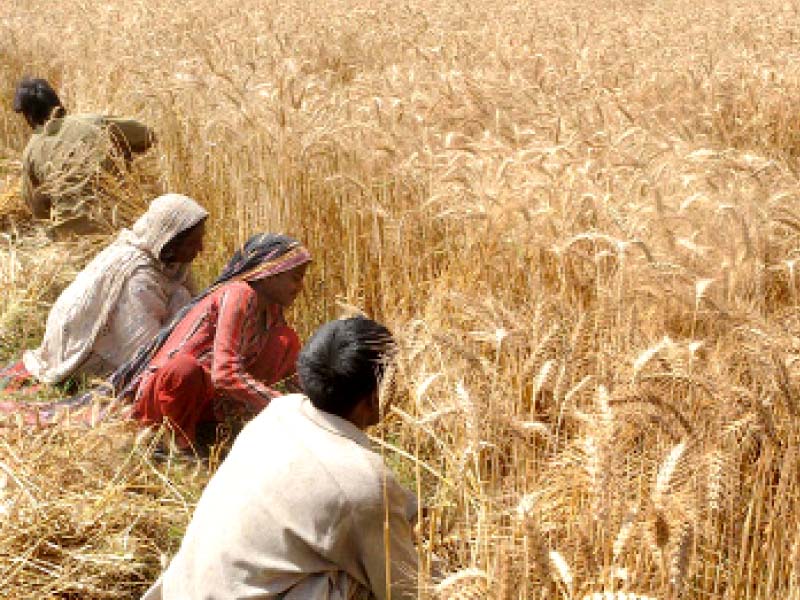 ---

LAHORE: The Punjab government has set a target of 4.5 million tonnes of wheat procurement, 11.6% higher than from the last year's procurement drive beside a limit of 200 to 1,000 gunny bags on the first-come-first-served basis.
Presiding over a meeting to review arrangements for the annual wheat procurement drive in the province on Tuesday, Punjab Chief Secretary Major (retd) Azam Suleman Khan directed all the field officials to "work tirelessly to achieve this target" besides curbing the spread of coronavirus.
The meeting was attended by the additional chief secretary, secretary food department, Lahore division commissioner and officers concerned whereas divisional commissioners joined through video link.
The meeting decided that only licence holders would be allowed to purchase grains during the wheat procurement drive.
Beckham endorses British Pakistanis' initiative to feed workers fighting COVID-19
Under the procurement policy, it was highlighted in the meeting that private purchase, transportation and storage of wheat was banned except for personal use. Feed mills and unregistered seed companies would not be permitted wheat purchase as well, the chief secretary said.
He ordered stern action against hoarders, asking administrative officers to coordinate with law enforcement agencies to keep a check on hoarding. He said that the policy of 'first come first served' would be followed during wheat procurement drive. He also directed the officials to provide all possible facilities to the farmers and SOPs regarding coronavirus be implemented at wheat procurement centres by disinfecting premises and ensuring the availability of masks, sanitisers and soap for hand wash.
The meeting also decided to depute officials of law enforcement agencies and Civil Defence at each centre and set up dispute resolution committees at the district level to address farmers' problems. It was highlighted in the meeting that online registration of farmers and issuance of wheat bags has started in Rajanpur district.
The meeting was told that inter-provincial and district movement of wheat would be regulated through an application developed in collaboration with Punjab Information Technology Board (PITB).
Meanwhile, Punjab Minister for Industries and Trade Mian Aslam Iqbal expressed great disappointment over continuous profiteering on flour. The minister highlighted that flour was being sold for Rs1,050 a 20kg bag in Multan, which was a big question mark on the performance of the local administration.
He also pointed out that flour, pulses, sugar and edible oil were also being sold at higher rates in different cities including the provincial capital.
Instead of selling flour through trucks, he stressed, local administrations should ensure availability at shops in their jurisdiction. The government will not allow profiteers to fleece the citizens in these crucial circumstances. The government has already introduced online sale of essential commodities and agriculture produce in 28 districts and is trying to extend this service to all districts.
He directed the officials concerned to take measures to provide relief to the masses by curbing hoarding and profiteering. Expressing his dismay over the poor performance, the minister said if local administration cannot even pay attention in the current situation when would it fulfil its responsibilities.
The meeting of Chief Ministers Taskforce on Price Control was attended by Punjab Information Minister Fayyazul Hassan Chohan, Punjab Secretary Industries Capt (retd) Zafar Iqbal, Additional Chief Secretary Asher Zaidi, while divisional commissioners, deputy commissioners and other senior officials joined the meeting through video link.
PM Imran wishes Boris Johnson speedy recovery from COVID-19
The meeting also reviewed proposals for setting up Ramazan bazaars across the province for selling essential commodities at subsidised rates. In the wake of coronavirus spread in most districts of the province, it was also proposed that the government should go for a target on subsidy during Ramazan instead of setting up Ramazan bazaars to avoid further spread of the disease. However, it was indicated that the Punjab Cabinet will make the final decision in this regard.
Price control magistrates conducted raids at 341 points in the provincial capital and found price violations at 48 points and slapped over Rs90,000 penalties on shopkeepers and traders. The local administration also registered cases against 10 profiteers on Tuesday over various violations of price control regulations. As many 10 shopkeepers have also been arrested for selling essential commodities at higher rates.
Published in The Express Tribune, April 8th, 2020.


Please follow and like us: